Eque.M eyewear 2021, Designer Eque.M inspired 1980s' surf scene for his new collection.
His new design dropped a great deal of inspiration from the beach culture and music scene that surround the surf scene of the times' of 1980s'.
The colors of used, and the colors of times are undeniably still reflected freshly to him.
Decorated with modern lights in these days are never be exposed his scenery of envision.
He exposed these dramatic colors for the whole frame mood as using quiet many lens color and chosen carefully frame colors.
So the source of 1980s' gives him lots of design inspiration.
In particular, one of the models that has been exposed and will be inherited as a presentative model in the future is " Shelter"
It came up with eye catching of Eque.M's Water Drop design of the surface on the frames are created by Japanese Craft-Man by hand craft.
It is crafted into directly on the mould by craft-ma's hands, and it shows you that amazing surface of water drop design.
By setting a lighter lens color than regular piece specification on the large size square from shape created and much describe the atmosphere of that time.
And he has a thought as a hidden message in this collection.
This big message from him " Listen to the voice of earth where your life is, it's not too late … " in dark Red color of ink. It is alert of environmental issue in the earth.
Its message is hidden on the inside of the thick temple of acetate series.
These Acetate series metal design of the temple is a design that expresses the food chain of all living things on this big mother earth in his interpretation.
Please enjoy Eque.M eyewear new collection.
Our main theme of new 2020 Autumn Winter collection is "WATER COLLECTION". Water is essential to everyday life, and our designer believes that eyewear is indispensable in our daily life as well. The new water drop design will be representing the collection of 2020. Elements of water is sprinkled throughout the frames and sunglass, associates the way how the rain droplets fall on the ground which resembles a gritty surface on each part of the designs. Interesting thing about the water is that the form of the shape is protean.  Shape that does not have an actual form makes us think what the actual shape is. It sometimes appears as sphere, it curves, bounces, flips and scatters.  Steam transforms as an individual. Once every little bead of water combines, it becomes as a big shape. Form of the water is infinite.
Our main theme of new 2019 Autumn Winter collection consisted from our previous 2019 Spring Summer "Japan collection" which will take you back in time to the old ages. The designer find himself deeply inspired with two concept words, "fantasy & nostalgia" as he fuses the old times with the modern for a diverse design.
Reality and fantasy are hard to distinguish in the world we are living. The word fantasy itself is designed as figment of imagination and reality as a concrete experience based on true events. Both key is ingredient to a person's collectiveness. And so, through active imagination, ideas were formed into great concept which pinged into our designer's mind using his rich imagination where most precious designs have been created.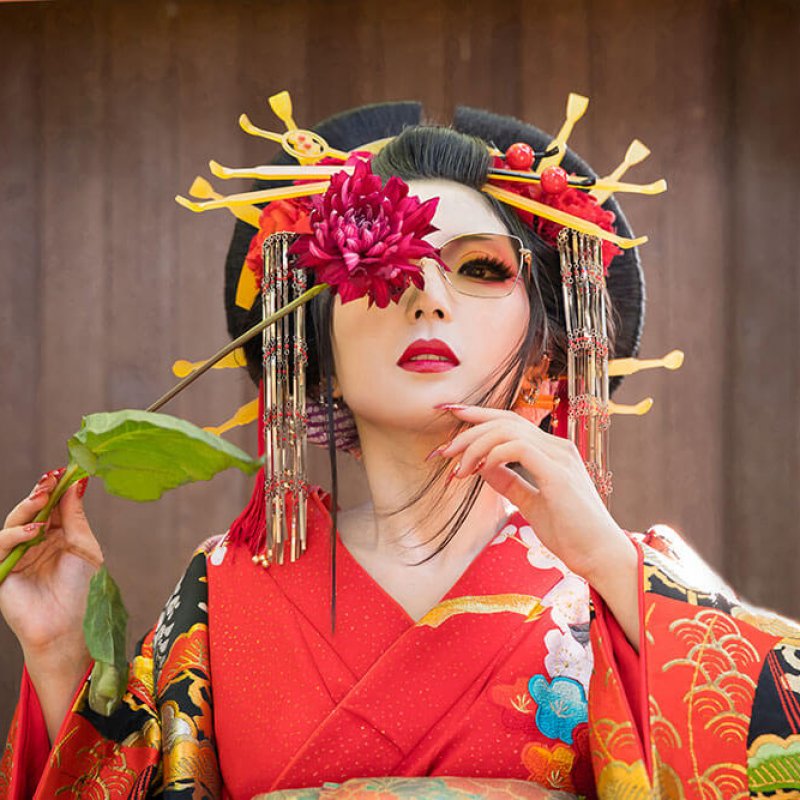 Designer Eque.M, has themed his first line of collection as a "Japan Collection". It was very natural for him to subject his homeland "Japan" as he believes his roots had a special meaning for his new line. The theme Japan collection was widely ranged with varieties of concept and categories which he has gotten a keen inspiration from, designer has focused on the woman with high dignity who had represented the olden times of Japan. From their costume to ornaments, and articles of tastes were Eque.M's inspiration which then reflected to the rich and colorful, flamboyant collection.
"2018 Paris Fashion Week"
Largest eyewear exhibition "Silmo", was held during the fashion week in Paris which ended in a huge success. With a theme of "Japan Collection", the booth was designed with a base of white color which resembles the brand image of "Eque.M" and with an eye-catching key visuals which caught attracted people's attention. Eque.M was grandly celebrated with many support from our partners.
Eque.M Press Event was a held in 1881 heritage Puyi optical Hong Kong. Participated with people from different media department and exceptional personnel's of the eyewear industry. Showcasing the 2019 Spring Summer full set collection with amazing good reputation. Continued with a Video shooting of his life's work and the 2019 SS Collection. The perfect ending for a most fascinating day.
"Parallel Universe" defies modern ingenuity to newer innovative and revolutionary. Reverence of the classic but inspired by the futuristic is what this sunglass has to offer. Two based sunglass with a balance designed and soft temple chip for comfort. 
Eque.M Launching in Stockholm
The Eque.M launching continues in Stockholm with participation from Martin Key, Rusty Rascals, Kismo Motors, Emilia lee and Sakemannen making it a unforgettable event. And a special thanks to StureOptikern for making this happen.
Eque.M Launching in Copenhagen Denmark
Eque.M launching was as glorious as ever! The event was a blast with people of the eyewear industry being present. Special Thanks to Klaus Berthelsen Optik. Be ready your city might be next.
Eque.M photo shooting Designer Eque.M together with Martin Key
Two designers Eque.M and Martin Key having their first epic photoshoot in Europe.
One of the worlds most influential designer,who is also a founder of Frency & Mercury, has launched a new collection under a new brand using its own name.
Designer Eque. M "HYPEBEAST" interview
"California signal" is showcasing variety of three different options to choose from. It raised the bars higher into a new standard of eyewear. The frame is lighter than ever, the color and designs are exquisite and the hexagon shape has proportional sides making it an amazing work of art. The grand structure of this piece grants you an atmosphere that will make you stand out above all the other rest.
                                               

Another fabulous fashion week! The Frency & Mercury booth in Paris was jam-packed with important members of the fashion eyewear industry. The exhibition was a big success. The new collections were introduced and of course it was an absolute divine. So thank you to all who participated and visited our booth for this festivity you've made are our day extremely special.
   Simple and classic but lavishly designed piece. The screws in the frame are placed in front for design purpose and to give accent for the consumer's facial features. Stylish design, full titanium and detailed temple end. A perfect piece for both male and female consumers. The stylish design of this piece will be a trendsetting.
Presenting Venus II.
 With this accessible shape and a thicker rim, it will compliment everyone's very facial feature. 
 This piece is our first creation with a crocodile skin design, using a digital embossed print to make a more dramatic effect on your face.  
And with other different bold variations of colors that give out intense fierce beauty, you can't go wrong with this piece. 
Be desired, be beautiful, be loved by everyone and shine like a star. Try Venus II now.